Production
Hatz Components GmbH relies on high flexibility of the production systems and a "zero-defect strategy". We achieve this through an optimum level of automation and maximum efficiency. Production is geared towards meeting the qualitative, logistical and economic requirements of the automotive and commercial vehicle industry.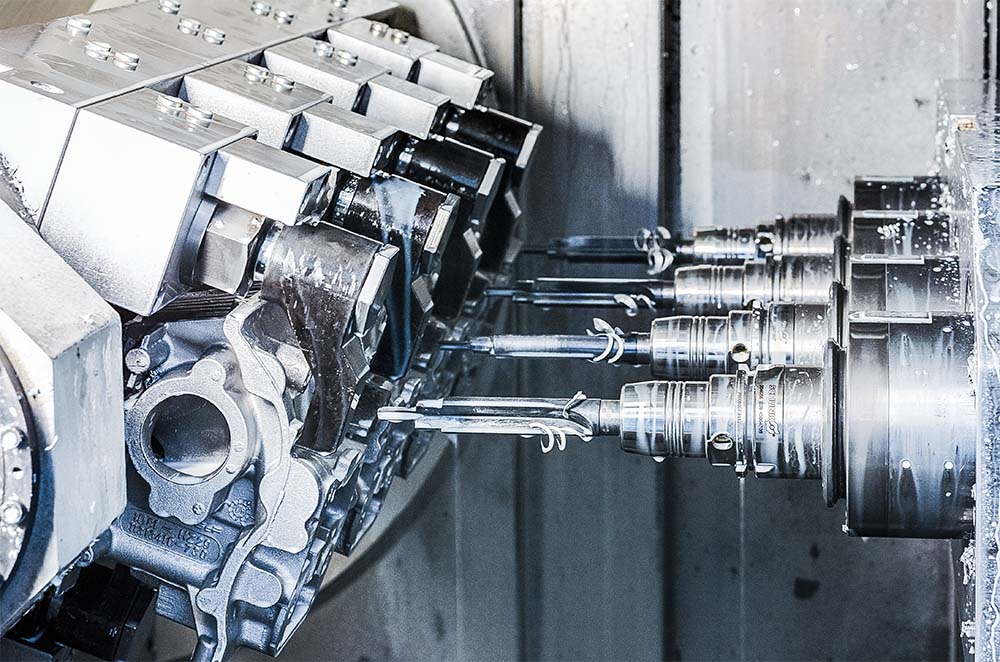 Production Lines
In order to meet the qualitative, logistical and economic requirements of the automobile and commercial vehicle industry, we rely on the high flexibility of our production systems at Hatz Components GmbH. Thanks to an optimum degree of automation deployed, the greatest possible efficiency is also achieved.
The high degree of process safety and reproducibility of our applied production processes fulfills the basic expectation in regard to the "zero defect strategy".
An example of this is the high level of available production technologies, which is always kept to the latest state of production technology at Hatz Components with leading machine manufacturers.
Only through consistent implementation of innovations and continuous improvement are ever more economical metalworking applications made possible.
Hatz Components produces a highly diversified product range with efficient and flexible processes. This enables Hatz Components to be competitive in small and large series production as well as in the prototype and OEM aftersales segment.
Production Processes
From the initial idea up to series production, be it for a single piece or fulfilling the need for small or large series, Hatz Components is always a reliable and competent partner who can provide the know-how of a renowned engine manufacturer.
Through knowledge gained over many years, Hatz Components provides customized solution concepts regardless of the material or alloy to be mechanically machined:
steel of all types (low, high or micro alloyed)
grey and modular cast iron
titanium
aluminium
sintered metals
Thanks to our experience and expertise in all conventional production processes, we also offer our own specialized and developed machining processes which meet the technical requirements of "High Performance Products".